About Me
Steven

I'm from the foothills of the North Georgia mountains. I was a woodworker for about 12 years. Well, up until I had the rug pulled out from under my feet, and I was laid off. I got back into photography in 2008 and decided to give that a try professionally, but haven't made any money so far because rednecks, white trash, and hicks are cheap. So, I'm working in a local grocery store where some days I hear and see the craziest stuff. I tend to complain a lot about things, but I'm too poor to afford a good therapist. So, I decided to make a blog and complain online to all of you instead. But I digress. I really just wanted to do the blog to share ideas and stories with the interwebz. =D
View my complete profile

Blog Archive

Thursday, December 30, 2010
2:49 PM |
Posted by Steven
|
Edit Post
One of the most commonly asked questions I get about backpacking is "Where do you sleep?" For me personally, about 80% of the time, I sleep in shelters which have wooden sleeping platforms. The rest of the time, I'm in a tent. I have been known to bivy out on the open ground once and a while, but that's really a rare thing with me these days.
Whether you're on a wooden deck, in a tent, or on the open ground, one of the most important things between you and the earth is your sleeping pad. Without one, you'll be either cold, uncomfortable, or more likely - both at the same time.
I started out using a closed cell foam pad that I bought for about $8.00 at Wal-Mart. I did that because that was all I could afford for a long time. They were big and bulky, but not all that heavy. They were reasonably comfortable and damn near indestructible. In fact, I bought my first one in 1993 and still own part of it as a sitting pad/game table.
Inflatable mattresses were (and still are) expensive when compared to a foam pad. However, no foam pad can compare to the comfort or pack size of an air mattress. Cascade Designs makes an "egg crate" style pad that folds up like an accordion that's not too bad. It's light weight and isn't too terribly bulky, but you sacrifice pad width and length for it.
Before you choose a pad, I highly recommend that you try it out first. When you're at your local outfitters, ask if they have a sample that you can try out. REI often has one of every model they carry available for testing. They even have a little platform for you to try them out on. Most pads come in half, 3/4, or full length. Some even come in larger sizes for larger sized people that like to have their feet up off the ground like I do. You may find that you can sleep with part of your body off of a pad. If you can, you can save both money and weight. If you have any doubts, or are planning on camping in the colder months, I'd recommend a full length pad.
I've noticed that some of the pads now have "R" ratings, but honestly, I've never gotten that geeky with gear. I mainly look at the size, thickness, weight, and the price. What you get will ultimately be a balance of these, and the "R" rating is really just a stat that manufacturers are using as a selling point to buyers that just don't know any better.
The most common types of pads I've seen out on the trail over the years are the ones I'll be talking about here today. I'm not promoting one over the other. I'm not tying to sell you anything. I'm just offering a few facts and my opinions of things in case you're ever in the market for a pad for the first time, or you're looking to upgrade. The first two I talk about, I've never owned. I have friends that use them, or I have talked with users that own them and swear by them.
Therm-a-rest Z-Lite:
I've only seen a handful of people out on the trails in the last couple of years that weren't using inflatable pads, and almost all of those people were carrying this pad. I've even seen one camper using two of them! I considered getting one of these this past summer as a lighter alternative to the ProLite 4 that I've been carrying for the last several years.
What Therm-a-Rest's Website Says:
Our ultralight three-season camping mattress is perfect for those go-anywhere, sleep-on-anything treks and bivies where every ounce counts. All-new proprietary foams are softer on top for extra comfort and denser on the bottom for extra durability, and the accordion shape packs more comfort into a smaller space than any other closed-cell foam mattress out there

.



Travel Ultralight: Weighing less than a pound, this mattress goes anywhere easily.
Packs Small: Accordion-style design packs lots of comfort into as small a space as possible.
Exceptional Durability: Closed-cell foam is incredibly durable, providing an exceptional value and many years of worry-free performance.
The Stats (For the full length model):
Length/Width : 72 inches x 20 inches
Thickness : 0.75 inches
Weight : 14 ounces
Price : $39.95 at REI.com
Why I Didn't Buy It:
I didn't get one simply because I'm 6'2" and my feet hung off the end of it. While I'm mainly a side sleeper, it didn't see wide enough for me either. Plus, after sleeping on an inflatable, it's really hard to go back to a foam pad.
Therm-a-rest Trail Lite:
I have several friends that own these. I've been trying to get a hold of one to do some side-by-side comparisons with the other inflatables that I do own.
What Therm-a-rest's Website Says:
When comfort and budget are top-of-mind priorities, our Trail Lite™ camping mattress is an ideal choice for light backpacking, car camping and travel. This time-tested design includes all the hallmark qualities of a Therm-a-Rest, offering the straightforward comfort you need, for the rest you deserve

.



Packs Small: At just 1.5 in.(3.8 cm) thick, it rolls up small for easy carrying.
Travel Light: Great weight for backpacking or overnight trips.
Lasting Comfort: 150D polyester makes it durable and versatile.
The Stats (For the large model):
Length/Width : 77 inches x 26 inches
Thickness : 1.5 inches
Weight : 2 lbs., 11 oz.
Price : $69.95 MSRP
Why I didn't get it:
This one is a great entry level pad. I'd recommend this one to anyone that's just getting started, or to anyone that's on a budget, but still wanted an inflatable pad. This one's tough too. I'd recommend it to Scouts or to anyone that's rough on gear. I didn't get one because I already had the ProLite 4, and was looking to upgrade to a lighter pad. That being said, if I were starting over from scratch, and were on my current budget, this one would be the one I would likely get.
Therm-a-rest ProLite 4
Therm-a-rest doesn't make this one anymore, but you can still find them online in a few places; usually for a lot less than the newer model – and for a lot less than I paid for mine when it was new. The newer version from Therm-a-rest claims it's a little warmer in cold weather. That's about it.
What Therm-a-rest's Website Says (about the newer model ProLite Plus);
When staying warm is as important as keeping your pack light, the ProLite Plus mattress is the perfect solution. Using patent-pending foam-perforating technology, we've created this mattress to provide exceptional warmth—up to 20% more than previous ProLite 4 mattresses—without added weight. It's substantial enough to keep you comfortable while mountaineering or on ski tours, yet rolls up small and light enough that you'll have no problem taking it as far as you want to go.


Added Warmth: Unique, diagonal-cut foam provides the most efficient insulation possible.
Light and Compact: Tapered design and high-performance foams eliminate excess weight and roll up ultra-compact.
Rest Comfortably: Bottom grips and textured top surface keep the mattress where you want it while you sleep.
The Stats
For the ProLite 4:
Length/Width : 77 inches x 25 inches

Thickness : 1.5 inches

Weight : 2lbs, 1 oz.

Price : When it was new, it was about $120 for the large. I found a regular online when writing this for $79. Good luck finding a large.
For the new ProLite Plus:
Length/Width : 77 inches x 25 inches

Thickness : 1.5 inches

Weight ; 2 lbs., 1 oz.

Price : $119.95 for the large, MSRP
* The difference is in the "R" ratings. The ProLite 4 is rated at 3.2. The newer ProLite Plus is rated at 3.8. How that translates into degrees or how warm you'll sleep is a mystery to me. Even if you explained it, I wouldn't likely buy into it anyway.
What I think of it (since I own it):
I bought mine new in 2007. I went back and forth on getting the regular and the large. I ended up opting for the large because I wanted to use it in the winter, and I'm not one for hanging my feet off the end of my pad. the reason I went for it over the TrailLite was that I wanted one that I could pack inside my pack. You simply fold it in half and roll it up. It takes up a fairly small amount of space, rolling up to roughly larger than a 1 liter Nalgene bottle. With the TrailLite, there's no folding it in half, which leaves you with lashing it to the outside of the pack. There it becomes susceptible to puncture or damage from tree limbs, briars, and sharp rocks. I've been known to sit on my pack if there's nowhere dry or comfortable, and tying your pad to the back of your pack means you have to be careful where you sit and how you sit on it.
All in all, I have enjoyed this pad since I bought it. It's been out on every outing since. From hot summer nights by the lake to icy, cold winter nights in the high country, this pad has been relatively comfortable and has shown very little wear.
Therm-a-rest NeoAir: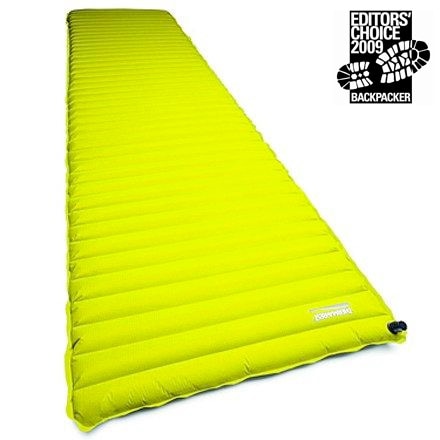 In 2009, Therm-a-rest came out with an even lighter 3 season pad that had no foam core inside of it. Not only is the pad lighter without the foam, it can also roll up to an insanely small packed size. Being content with my ProLite 4, I let it slip under my radar until this past summer when I started seeing it more and more. After a recent outing to Mt. LeConte in the Smokies, and getting a close up look at one, I decided to do a little research and see about getting one for myself.
What Therm-a-rest's Website Says:
The NeoAir mattress represents the world's most advanced engineering in ultralight comfort. Beyond being the lightest air mattress available, we've utilized two patent-pending internal technologies, making it up to three times warmer and far more stable than any other uninsulated air mattress available. And when it comes to space in your pack, you'll appreciate that it's no bigger than a one-liter water bottle. Revolutionary by design, the gossamer NeoAir mattress makes comfort one less thing you'll need to compromise when traveling fast and light.


Ultralight & Compact: Weighs just 14oz. and packs down to the size of a 1-liter water bottle.
Unrivaled Warmth: Our patent-pending reflective barrier returns warmth to your body and reduces heat loss to the ground, keeping you three times warmer than any other uninsulated air mattress.
Sleep Stable: When inflated, patent-pending Triangular Core Matrix technology creates an internal truss system, resulting in the most stable non-self-inflating air mattresses.
Lasting Performance: Achieving thermal efficiency without down or fiber insulation means the NeoAir mattress can be inflated directly without the added weight of a pump, or worrying about exhaled moisture wetting insulation and decreasing performance.
The Stats (For the large model):
Length/Width : 77 inches by 25 inches
Thickness : 2.5 Inches
Weight : 1 lb., 3 oz.
Price : $169.95 MSRP
What I think of it (Since I own it):
It's light, compact, and super comfortable. I haven't been able to field test it yet, but I've slept on it a couple of times both inside and outside here at the house. (I think the outside night here was pushing the limit on it's temp rating, for sure.) For my frame,I'd have to say that it's the most comfortable pad I've been on – ever. I would definitely say it's a three season pad though, and I'll be sticking to the foam cored ProLight 4 for any winter ventures, but I'm definitely looking forward to getting some extensive use out of it this spring, summer, and fall. I can't wait to see how little space it takes up in my already tiny three season pack. It weighs almost a full pound less than the ProLight, which you may not care about, but pack weight equals comfort and comfort translates into more miles on the trail.
So that's it. If you're looking for a sleeping pad for backpacking, I hope that this little comparison will help you decide. Again, I don't particularly favor one over the other. I purchased mine based on my own research and experience, and I hope that before you make any investment into gear, that you'll do the same.
--